Opening Ceremony of Career Fair 2019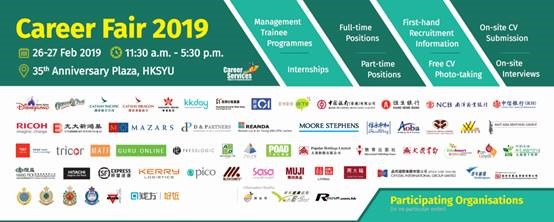 Dear Students,
We would like to extend our sincere invitation to you in joining our Opening Ceremony of the Shue Yan Career Fair 2019. It serves as an
important kick-off event and an opportunity to express our gratitude to the exhibitors. You will be able to meet with more than 25 exhibitors
on this first day of Career Fair.
Details of Opening Ceremony:
Date: 26, 2019 (Tue.)
Time: 13:00 – 13:20
Venue: 35th Anniversary Plaza, Shue Yan University
We would be grateful if you can advise your attendance by replying to osa_career@hksyu.edu before Feb. 21, 2019 (Thur.).
More about the Shue Yan Career Fair 2019
It will be a two-day exhibition from Feb. 26 – 27 at 35th Anniversary Plaza. We have invited more than 50 exhibitors this year and they are from different industries including accounting and auditing, aviation, banking, commerce, digital marketing, disciplined services, e-business, education etc. There will be free CV photo-taking service and other career-related information provided at the venue for students. We would appreciate it if you could spread the words and encourage your colleagues/students to participate in our Career Fair this year.
Visit the following website for more information!